When Wolves Walk
On March 14th, 2018, hundreds of students marched out of Grandview High School.
Students gathered on this day in order to raise awareness for and protest the multitude of school shootings, especially the recent Parkland Shooting.
"The first step in fixing this issue is to raise awareness," said Grandview junior Quentin Reese.
The first step in fixing this issue is to raise awareness.
A mix of students, security guards, teachers and administrators all clustered at the school's lower soccer field. Students, for the cause itself, security and staff to ensure our safety.
"There are a lot of people here, because they truly do care about this issue," said Reese.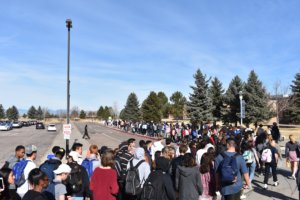 At approximately 10:07 am, students were rallied together and began walking out of the soccer field, through the staff parking lot and passing the student parking lot, stopping at the sign for Grandview on Arapahoe Road.
As students walked through Grandview's campus, and next to Arapahoe Road, passing cars honked and shouted, unclear whether they were meant to be encouraging or demeaning.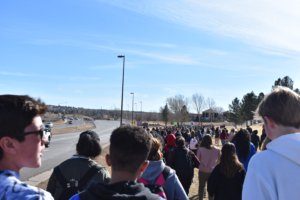 Once every member of the Grandview community reached the marquee, a collective 17 minutes of silence was taken to honor the 17 victims of the recent Parkland shooting.
Immediately after the 17 minutes of silence, students joined each other in chanting: "We need change! We need change!"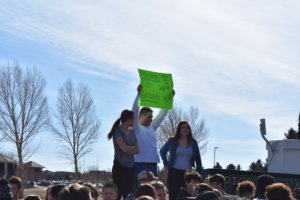 After the chant, students began to return to class, where many knew they would be marked tardy, as school rules allow teachers to do so.
A major deterrent from participating in the walkout was the chance of being marked tardy or absent by teachers, resulting in potential disciplinary actions or simply an unwanted blemish in the students' transcripts.
"I believe they do have a 'legal' justification for the punishments, but I feel like exercising punishment against people trying to raise awareness of this big social issue is contradictory. Like, 'Yes, we should all try and fix this, but we will punish you if you do'," Reese said.
In the end, students got back to their school work, many now determined to work hard and ensure another school shooting never happens again.