Grandview Poms and Cheer Compete at Nationals
Grandview's varsity Cheer and Poms teams traveled down to Orlando, Florida, to compete on the National Stage. The Grandview Poms took the floor first over the weekend of followed our varsity cheer squad the next weekend.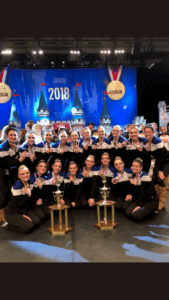 The weekend of February first, poms took the stage. Ryleigh Chapman was among the pom's competing in Nationals.
"Nationals was extremely successful for us as a team! We accomplished both of our goals that we had set for ourselves at the beginning of the year, which were to place top 3 in the nation, and to make the finals for jazz dance," said Chapman.
At such a large national tournament, the competition is fierce. "Some of our biggest competition are the other Colorado teams like ThunderRidge and Creek, teams that we are constantly competing against," said Ryleigh.
Of course, even great teams occasionally slip up.
"In our prelims and semis for both dances we made one simple silly mistake in our dances, but we perfected those errors for finals, and were able to have an almost perfect final routine!"
Not everything the Poms team did in Florida was competitive. "Every year my favorite part of nationals is walking out onto the finals floor with my team," said Chapman.
When you go out there and have people from all over the country cheering for you, you realize that all of the late nights and early morning practices are worth it.
Chapman had this advice for next years poms team:  "You can't let yourself or your teammates settle Once that happens that's when the regrets come," said Chapman.
"Being my senior year, I can say you want to leave everything on the floor. You don't want to regret a single thing because eventually it will be your last time and won't be able to get those performances back."
The following weekend, the cheer team traveled to Florida for their own championship competition.
The cheer team put in a lot of work in preparation for nationals.
"In the months leading up to nationals we all prepared by practicing hard six days a week, and cleaning up the details of our routine." said senior, Gracee Carlton.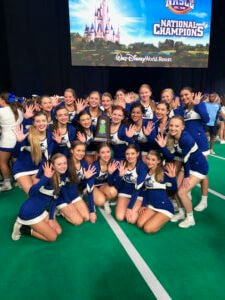 Although Nationals went well, it didn't go without some mistakes. "Nationals didn't start out how we hoped it would, we didn't perform our competition routine as well as we could have, and it resulted in us not making it to the semi final round of competition," said Carlton.
She continued, "Although we were all disappointed, we pulled together as a team and did very well in our gameday division, we made it through all three rounds of the competition and ended up placing fifth in the nation!"
At Nationals, our cheer team faced strong competition.
"Our whole division was tough, but our toughest competition was Fishers." said Hannah Weigenka, a Junior.
The cheer team also had some fun while down in Florida. "My favorite part of nationals was practicing on the famous football field because there were so many different teams and no one was doing the same thing," said Weigenka.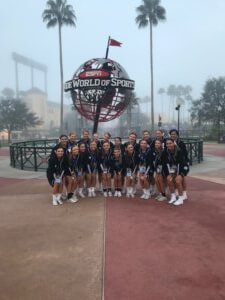 "Once we would start doing something, people would stop and watch us or stop and yell our cheer with us. It was really cool to see how many other teams knew of us and were rooting  for us."
"My favorite of nationals was spending time with the team and
making a lot of lasting memories my senior year," saidCarlton.
Both Hannah and Graycee had some tips for next years varsity cheer team.
"Don't focus on the aspect of winning but on doing the very best you can do as a team," said Carlton. "Take each day of competition one step at a time and make sure to be confident in yourself."
"Don't be scared to perform, or let your nervousness get to you because performing the routine should be something you love to do," said Weigenka.
Overall, nationals for both Grandview Poms and Cheer was a success. We are lucky to have such talented girls cheering us on!