5A Basketball Champions
This past Saturday, Grandview Boys' and Girls' Basketball made history.
Both teams won the State Championship in the 5A division. This is the third time this has happened, with ThunderRidge winning in 2003 and Regis Jesuit claiming both in 2009. What makes this even more extraordinary is that not only was this the second straight state title for the girls team, but it is the first time in Grandview history for the Boys to win a state championship in basketball.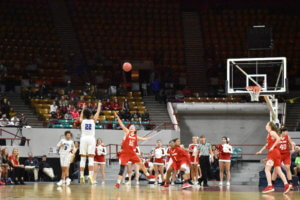 Allyah Marlett, a junior who has taken part in the back-to-back State Championships, said that it is a feeling she will never forget.
"Regis is a great team, and it proved to the people that doubted us that we were meant to be there."
Marlett had 11 points this game with two back-to-back three-point baskets.
Grandview had lost to Regis in the regular season, 53-51.
"We had that sour taste in our mouth after we lost that game," said Marlett. "We practiced hard and played how we knew we were capable of playing."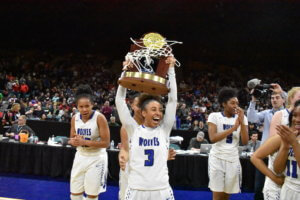 At the beginning of the Championship Game, Grandview was down 12-0, and Marlett points to mental toughness as the major contributor for the win. "I knew we were never out of the game at any point."
"We knew that we had a way to go and it was just score, stop, score; like what we do in practice," said Marlett.
Coach Kit also helped them with their mental toughness and positivity that gave them the power to come out on top for the second year in a row.
The Grandview Girls' basketball team is hungry for more and plan on going back for a three-peat next season.
"We are going to work hard next year. We are going to have another great team," said Marlett, "I'm excited."
That wasn't all for Grandview that night. After the girls' game at 6:30, the boys took the court for their first State Championship in Grandview history.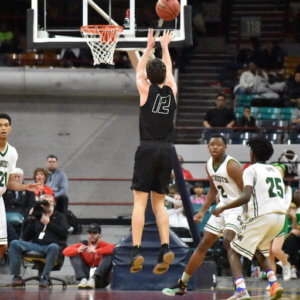 Ben Boone, a senior who contributed multiple free throw points to bring the boys lead to six, explains the feeling to be the first boy's team to win a state title since Grandview Football did it in  2007.
"I still haven't really realized that we actually just won state, but it's an amazing feeling to prove to the people who didn't recognize us us as a top team in the state wrong."
Boone continued, "Every year, we've just continued to get better. Last year we had a great season but couldn't finish in the state tournament. So this year we made it our goal to finish and that's exactly what we did."
Grandview Boys won over George Washington 57- 52. This game went back and forth between points, with George Washington in the lead at the beginning of the game.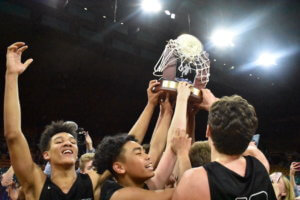 The boys ultimately came out on top.
"We get to play the best competition in the state every game, so we have to figure out how to pull out those close wins," said Boone.
At the end of the games, the Grandview crowd went nuts. Both teams, both state championships, both titles to bring back to the Grandview community.
It was a great day to be a wolf.