20 Wonders of the Wolves
This year, Grandview High School celebrates the 20th year being open, and in honor of Grandview's 20th year, we have gathered 20 fun facts about our school!
By: Jade Winton, Ashley Wiedeman, and Kristina Boyko
1. Grandview's original school colors were going to be purple, teal, and black, but a student brought in a picture of a Duke athlete in uniform. After seeing that picture, everyone voted on blue, black, and white to be the school colors.
2. Grandview first opened up their doors on August 24th, 1998 with 628 students and 86 staff members. Now there are over 2,800 students and 260 staff members, which is 4 times as many students and 3 times as many staff members.
3. After the class of 2018 graduates, 10,200 students would have graduated from Grandview.
4. Every year, when the band marches in the parade, their banner is held by a pair of siblings.
5. Grandview was the fifth school in the Cherry Creek District to be built. Cherry Creek, Overland, Smoky Hill, Eaglecrest, Grandview, and finally Cherokee Trail.
6. When Grandview first opened, there were only Freshmen and Sophomores attending. That means that there were no students driving to school on the first day of school.
7. When Grandview first opened, there was a different daily schedule. On Mondays, students attended all eight classes. On Tuesdays and Thursdays, students went to periods 1 through 4. On Wednesdays and Fridays, students went to periods 5 through 8.
8. The students and faculty wanted our mascot to leave a print and be native to Colorado, so they picked the wolf. The other options for the Grandview mascot was a Hornet or Diamondback.
9. There are nine teachers that have been working at Grandview since it opened. The nine teachers are:
Jamee Ulitzky

Scott Bond

Robyn Wisler

Ann Koenig

Ann Richards

Cindy Peterson

George Rose

Jenette VanWormer
10. There are ten teachers that used to be students at Grandview:
Brian Gausman

Ryan Budd

Erika Lopez

Brian Timberman

Cadance Hobbs

April Green

Carly Yeager

Preston Court

Jordan Schlehuber

Eric Olguin
11. On October 13th, 2008 all Grandview students and staff got a day off of school when a car was driven through the lower commons, athletic doors.
12. The average electricity bill for the school in a month is $47,000 and the average gas bill is $7,000.
13. There are six married couples that are a part of the Grandview staff, they are:
The Ulitzkys

The Woods

The Loewens

The Horans

The Baileys

The Fishers
14. Grandview used to have seven mobiles, but they started getting taken down after Cherokee Trail High School was built and after Grandview added the new wing. Before the new wing, and CT being built, Grandview was considered an overpacked school.
15. There are eleven students that went to play professional sports after they graduated from Grandview.
Football

Joe Klopfenstein

Evan Baylis

Eddie Yarborough

Mike Pennel

Tanner Gentry

MLB (Major Leagues)

MLB (Minor Leagues)

Jared Schlehuber

Cole Leonida

Alex Allbritton

Brian Gausman
16. When we first started our athletic program, we started in the 4A Prairie League. We now play in the 5A Centennial League. The first game our football team ever won was the 7th game of the second year against Pine Creek High School with a score of 26 – 20.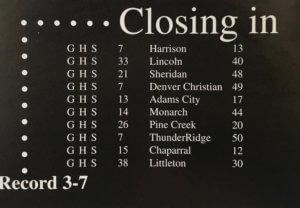 17. For the first two years, the basement of the school had rattlesnakes in it. There was also a cat that lived there, but one of the construction workers later took the cat home.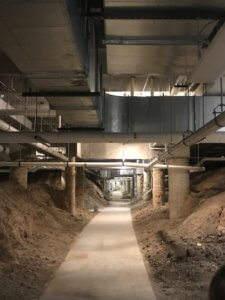 18. There were four other name options instead of 'Grandview'! Grandview was picked on October 13, 1997.
Pinnacle High School

Vista High School

Hillcrest High School

Diamond Ridge High School
19. The first musical Grandview performing arts performed was Godspell and the first play was The Miracle Worker.
20. On the first day of school, Mrs. Fox, our first principal, was washing the upper commons windows when the students first came in. She wanted the school to look clean for the first impression of Grandview.
We would like to give a special thank you to all students, teachers, coaches, counselors, staff, and past staff for the help of gathering all of these facts!