Cooking Up A Storm
Photos by Kyle Tatlock and Zoe Preskorn
Want to learn how to make your own food and run a five star restaurant? Check out Prostart!
Grandview offers a great program to learn about the restaurant industry. The innovative course is called Prostart.
Senior Kyle Tatlock found out about Prostart through smelling the food.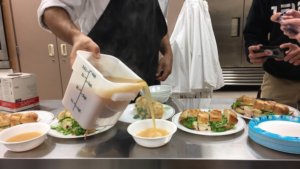 "I found out about Prostart by taking computer classes in the same hall and I would always smell food cooking and I wanted to take the classes that you got to make the food in," said Tatlock.
Zoe Preskorn, a senior, found out about the class through her teacher from previous cooking classes.
"I was a junior and took foods and nutrition and I thought that was the only food class you could take," said Preskorn, "but then our teacher told us about Prostart and other classes after food and nutritions."
However, there are prerequisites in order to get into Prostart.
"To take Prostart, you have to first take culinary nutrition, and after that you have to take gourmet foods and then you can be in Prostart if you are a junior or senior," said Tatlock.
For many, taking Prostart is worth the year long class as it teaches you all about the restaurant business.
It teaches you how to manage a restaurant and everything on how to run a business and a company. Cooking is just a small part of it
"It teaches you how to manage a restaurant and everything on how to run a business and a company. Cooking is just a small part of it," said Preskorn.
"This class was not what I expected it to be in the sense that I didn't know how much I would actually learn about not only food but everything it takes to run a restaurant and prepare 5 star meals," said Tatlock.
In addition to cooking food, Prostart teaches students the ins and outs of the food industry.
"In Prostart, we start off a new unit by taking notes and getting background on whatever it is we are studying," said Tatlock. "After that we have guest speakers in the industry come to class and show us how to prepare things or what their job is and what they do."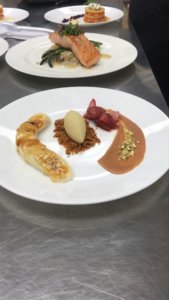 "Next we get into small kitchen groups and cook the food ourselves. Within these units we have field trips, catering events, and pretty fun projects."
Prostart offers tons of new and fun experiences for students.
"My favorite part of Prostart is learning new ways to plate and present exotic foods that you normally wouldn't even think of preparing," said Tatlock.
Not only does Prostart offer fun cooking, but there are life lessons tied into the class.
"This class has showed me that there is a lot of people who don't have the same learning techniques and have different opinions," said Preskorn. "So this class has really taught me how to work with that and how to work with people whose opinions differ from mine and different personalities."
Being in Prostart allows students to get ahead in the competitive culinary world.
"Prostart got me into cooking and helped me discover a true passion and taught me the skills needed to make it in the industry," said Tatlock.
"Prostart definitely puts you ahead everybody else that is thinking about cooking and the industry," said Preskorn.
Prostart is a great class to meet people with similar interests.
"Prostart isn't just for Grandview, I have people from Eaglecrest and Cherokee Trails in my class. It's a great way to meet new people," said Preskorn.
Overall, Prostart is a class that includes not just making food, but making memories.