Grandview Wolves Make Their Mark
Wednesday, February 7th was a day that 28 senior Wolves will remember for the rest of their lives. This morning, Luke LaFlam, Kevin Clark, Kylie Thompson and 25 of their classmates signed a letter of intent to go to their respective colleges to further their academic and athletic careers.
"It's [signing day] a dream come true," said Luke LaFlam, who is going to Arizona State University to play baseball. "It's been a goal of mine for a while now, and it feels good to have my future set."
LaFlam and teammate Michael Sermini (Linfield College Oregon) are the two baseball players who signed alongside three basketball, eleven football, five lacrosse, three soccer, two softball, one tennis player and one track and field athlete.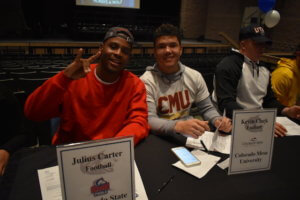 One of the eleven football players, Kevin Clark, who will be attending Colorado Mesa University, has been talking to CMU since his sophomore year. "They didn't officially offer me until this year," said Clark.
Some athletes have been committed to go to a school since their sophomore year. This verbal commitment is made official the spring of their senior year.
Kylie Thompson, who is headed to Pomona College to play lacrosse, has been talking to the coaches since she was a sophomore. "It was fun signing and getting to a day that I've been excited for since freshman year."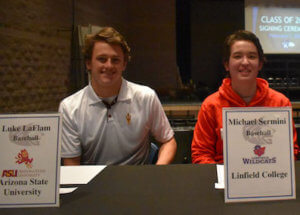 Luke LaFlam, however, signed to a school that was not on his list until the end of the recruiting process. "They came to watch me play at a tournament in Arizona, and I took a tour right after the game."
After a couple of visits, LaFlam had fallen in love with the campus, the coaches, and the players, ultimately sealing the deal for his next home, where he will major in Business.
These 28 Wolves are not only athletes, but bright students who are looking forward to the next four years leading into their future.
"I'm trying to major in Criminal Justice/Criminology, and then minor in Psychology," said Kevin Clark about what he wants his classes to look like next fall.
Kylie Thompson, a four year varsity athlete, will major in Science, Technology and Society, with a concentration in medicine.
Grandview's signing day was the second biggest group of athletes to finalize their recruitment to a college in Colorado. Below is a full list of all twenty-eight athletes who participated on February 7th.
Baseball
Luke LaFlam- Arizona State University
Michael Sermini- Linfield College Oregon
Basketball
Ben Boone- Colorado School of Mines
Jaiden Galloway- Metro State
Leilah Vigil- University of Missouri Kansas City
Football
Julius Carter- CSU Pueblo
Kevin Clark- Colorado Mesa University
Cameron Cooper- UTEP University of Texas at El Paso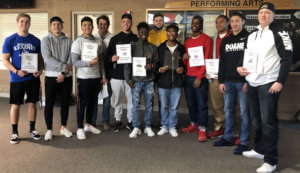 Gunner Gentry- University of Wyoming
Aaron Harris- University of Northern Colorado
Thomas TJ Jenkins- Nebraska Kearney
Jackson Kibbee- CSU Pueblo
Jordan Knapke- University of Sioux Falls
Simote Patterson-Samate- Colorado Mesa University
Kyle Smith- Doane College
Prentice Wilson- Nebraska Wesleyan
Lacrosse
Jace Baldwin- Colorado State University
Megan Matthews- Campbell University North Carolina
Grant Miller- Monmouth College
Colby Moore- University of Denver
Kylie Thompson- Pomona College
Soccer
Natalie Beckman- University of Denver
Reagan McCombs- University of Central Arkansas
Morgan Szarka- Creighton University
Softball
Sophia Herrera- Dodge City Community College
Morgan Quimby- Montana State University Billings
Tennis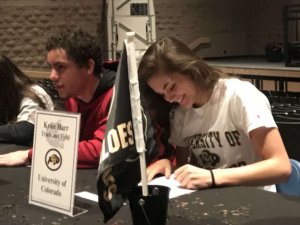 Illijah Bailey- Hastings College
Track and Field
Kylee Harr- University of Colorado