Weighting on a Dream
Taking a weight training class is one of the most popular PE choices for Grandview students. Brian Timberman just happens to be in charge of most of them.
Timberman didn't always want to be a teacher. He wanted to follow in his dad's footsteps.
"My dad was a firefighter," Timberman said.
Timberman did apply to be a firefighter. However, he got his first teaching job at the same time. Though he didn't get moved forward for firefighting, Timberman liked his teaching job enough to keep doing it.
Flashback four years and Timberman was just like most of us: clueless when it came to knowing what he would do with his life when he ultimately graduated from high school in 2004.
A lot of teachers and coaches I've had had a positive impact on me. They were beneficial to me to grow into a young man.
"Honestly, they called me up when I was registering early in the summer for football, and they said I needed to pick a major," Timberman said. "I said PE."
For Timberman, it just happened to be a quicker decision than most, likely because he had good role models throughout high school.
"A lot of teachers and coaches I've had had a positive [impact on me]," Timberman said. "They were beneficial to me to grow into a young man."
Timberman then went to Adams State University and played football during college. He ultimately graduated in 2009.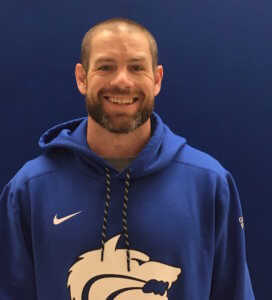 Before teaching at Grandview, Timberman taught for one year at Colorado Connections Academy.
"It's a public online school," said Timberman. "It's basically homeschooling but with teachers that have been certified."
It's hard to imagine how one can teach gym online.  According to Timberman, each middle school student turns in an "activity chapter," while high school students take what is akin to a health class.
"I do classes once a week where there's an online powerpoint, and the kids can get on and listen while I talk, and they can ask questions," said Timberman.
He still teaches as a part of Colorado Connections Academy as an adjunct (part-time) teacher because the online education is so beneficial to students who take classes at the Academy.
"It's great for kids who are allergic to the sun. They literally can't go outside," said Timberman. "There are also kids that are professional athletes, like ice skaters and skiers. The kids who wake up and just don't want to go to school normally fail out."
Once he got to Grandview, Timberman did the Grandview Academy Program (GAP) which is another online-based program.
"It's credit retrieval. If you failed a class at Grandview and say you're a senior, and you need to graduate, you would come to my class and do it online. In a big circle, I've done a lot of online stuff."
Timberman was then transferred to Physical Education after that.
"I'm much happier as a PE teacher," Timberman added.
One element of Timberman is his willingness to challenge himself. Even though it was his hardest subject, Timberman still chose to minor in English and is highly qualified to teach it as well as Physical Education.
"I really sucked at English. I had an IEP, and I couldn't read until 3rd grade. I just wanted to challenge myself," said Timberman. "It was the hardest semester of my life; I was miserable."
Timberman also coaches football and wrestling at Grandview. He participated in both in high school as well.
"You get to build stronger bonds because you're with the kids longer. The ones I coach, I'm with everyday," said Timberman. "Coaching is a little more intense."
As both a coach and teacher, Timberman has met many of the students who have walked into Grandview and continues to make an impact on the student population.