By Ryan Arnold, Photos courtesy of Jack's Action Shots
This Saturday, our Grandview Varsity Girls Poms team will go down to the Coliseum to compete against all the other schools in Colorado. For the past several months, the team has been working as hard as possible to make sure they secure one of the top spots in the State.
"This year we  have changed a lot in terms of how we practice and how we prepare for competition season," said senior, Ryleigh Chapman.
Story continues below advertisement
Instead of solely focusing on their physical strength and toughness, the team is also focusing on having stamina to perform the routines to the best of their abilities.
"We train in the weight room with other teams, we started working more on our mental toughness, we are all taking outside dance classes, and we are all holding each other more accountable everyday at practice."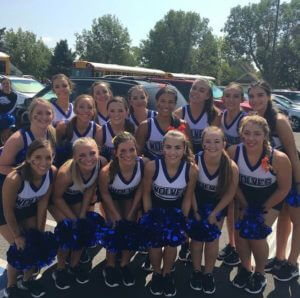 "Our hopes are that the changes we are making in practice will help change the results in our competitions," said Chapman.
Our Poms team is already 2nd in the league, meaning that they have competed against all the other schools in the Centennial area, and were awarded 2nd. Once State comes around, the girls will be striving their hardest to at least reach that position again, but against the entire state of Colorado, and maybe even surpass it.
"Every competition has been a success for my team and I, despite what placement we get. Our performance gets better and better every time we compete, which is exactly what we want to happen, even if we place 2nd," said junior, Abby Lis.
With this mentality, the team is constantly improving. Placement is very important, but what's more important is the fact that the girls know that every time they put in their best effort, they get the best results. Many teams forget this while focusing all of their attention solely on winning, which makes Girls Poms unique. They strive for the top spot, but don't forget about constantly improving and honing their skills, regardless of the results.
We train in the weight room with other teams, [and] we started working more on our mental toughness.
"I think State will go very well for my team and I. We have all worked so hard for months and at the end of the day I think that if we know we did everything we could then we will be very happy with the results," said Lis.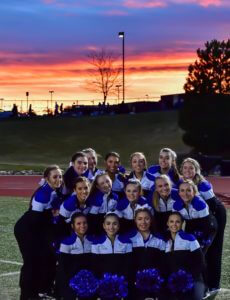 This coming February, the Poms team will travel to Walt Disney World in Florida to compete against teams from all over the country. The team has been preparing for this final contest since Day 1 of their 2017 season.
"We are looking forward to Nationals! This is one of the highlights of our season that we have been working so hard for. We have set numerous goals for the competition and we can't wait to exceed those goals," said Chapman.
"This will be my first year going to Nationals, and I'm very hopeful that it'll be as amazing of an experience as everyone says it is. My team and I definitely hope to place very highly every year, but we also hope that it'll be an unforgettable experience full of memories," said Lis.
The Poms team has been putting in the time, energy, and effort everyday to prepare for both State and Nationals. It's clear that these girls are true athletes who know what goals they want to accomplish, and then do everything in their power from training daily in the weight room to perfecting their skills on their own, to accomplish them, and in most cases, exceed those goals. With all of this preparation, along with the extremely positive mentality of the girls, there's no doubt that they are going to make a huge impact at both State and Nationals.
Come out this Saturday to the Denver Coliseum at 1 PM to cheer on our Grandview Girls Poms and witness all of their hard work pay off as they blow through the competition one routine at a time.