Dethroned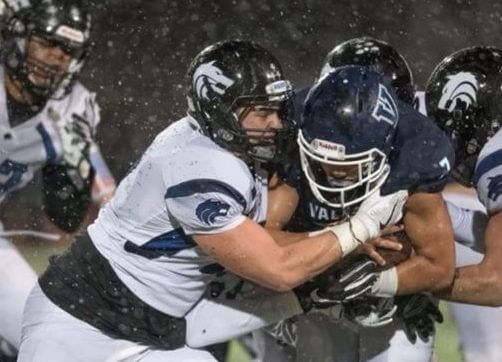 Grandview's Varsity football team took down number one ranked Valor in the quarter-final game, ruining Valor's previously undefeated season.
By Ryan Arnold, photo courtesy of  Daniel Graney
This past Friday, our Grandview Varsity Football team took on the undefeated Valor Christian Eagles in one of the quarterfinal games of the CHSAA 5A Playoffs. This was arguably the most intense and difficult game of the year for the team. The last time Grandview Varsity Football beat Valor was three years ago, in a league game, and then lost to them in the semi-finals that same year. However, our boys pulled off their greatest feat of the 2017 season–so far–by beating Valor Christian by twelve points, and knocking them out of the running for the State Championship in 9 years.
"It's a good feeling, especially since they have handled us pretty well since I have been playing varsity football," said senior, #19 Gunner Gentry, a senior on the team. "It's nice to finally get out there and show them that we can play with them."
Valor began with a 10-0 lead after the first quarter; however, during the second quarter, junior Jordan Billingsley and senior Prentice Wilson scored two unanswered touchdowns, giving our Wolves a 14-10 lead by halftime.
"I think we were very mentally tough last Friday night. It was very wet, cold, and even snowed a little bit so us going in there and saying, 'no matter what the conditions, we are gonna do what we have to do to win this game' made a huge difference," said Gentry.
"It's nice to finally get out there and show them that we can play with them."
Along with that tough mentality, once the second half began, our Wolves let loose, yet again. Grandview's defense was superb, forcing Valor to punt twice, and shortly after that, quarterback and senior Kyle Smith hit junior Dayne Prim for yet another touchdown, making it 24-10.
"We watched a ton of film on Valor, focusing on what they did well and what we thought they were gonna bring at us. We really keyed in on that at practice, and made sure we were prepared for everything they were gonna do," said Gentry.
All of the preparation the team had definitely showed. The boys scored yet another touchdown during the 4th quarter, making it 28-10. And while Valor did score their second touchdown late in the 4th quarter, their two-point attempt failed; ultimately securing the win for the Grandview Wolves.
"Personally, it meant a ton to me. Mostly because they have kicked our butts every year we have played them and it just feels so good to be on the winning end of a Valor vs. Grandview football game," said Gentry.
"We watched a ton of film on Valor, focusing on what they did well and what we thought they were gonna bring at us."
In response to the recent win, and regarding the rest of playoffs, Gentry had this to say: "We will definitely change our game plan according to who we are playing, but no major changes to anything we do on a day-to-day basis. This win definitely gave us a boost in our moral in the sense that we believe we can play with anyone in this state if we work hard, do everything the right way, and do it how we were taught to do it."