Unfinished Business
By Carlos Morales, photo courtesy of Danielle Armitage
The strength of the Wolf is the Pack and the strength of the Pack is the Wolf. Junior Angelo Mujica, #17 and Striker for Grandview High School, has been given more opportunities this season to make a larger impact than years before.  
Angelo was focused on improving his play for the game, and being close with his teammates and coaches. He cares for the team he plays for. "I'm glad I get the chance to play with the guys I'm playing with this season," Mujica said.
Angelo has been playing with most of the players on the team since freshman year. They have created a bond between one another, and trusted each other to make game-changing plays. "I've got much more playing time this year than last year. This year we have a very united team that trusts the forwards to score the goals," said Mujica.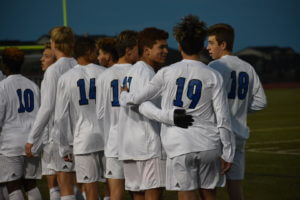 Angelo's biggest objective during the off-season was to improve his play. "Just practicing on my own with cones and teammates and at practice, just doing what the coaches had me doing during club and high school soccer." He continually pushed himself to the limit without the need of a coach. "I got the opportunity to start this year and thanks to the team, to score goals."
Improvement is what Angelo wanted and improvement is what he got. In his 2016 season as a sophomore he had only one goal and one assist. The 2017 season drastically improved, and he had thirteen goals, five assists and counting.
"This year we have a very united team that trusts the forwards to score the goals."
"My biggest accomplishment this year was winning the league championship because we haven't won it in many years. It's an honor to be named 2017 league champs and we're striving to get further." The team is now in the semi-finals for the state championship and play Denver East Wednesday, November 8th.
"I want to make it to the big leagues after playing college ball, but most importantly, to be a role model," said Mujica.