Sprague's Surprise!
This morning, Dr. Sprague was treated to a surprise as she saw multiple signs line the road and the upper lot. As she passed these signs, she slowly learned that these signs were for her, and that the staff was celebrating her 40th birthday today.
In preparation for her 40th birthday celebration, the staff not only made these signs with pictures of Dr. Sprague as a child and throughout her career, but they decorated her office head to toe with streamers, cupcakes, softballs, pieces of art, and quotes from great literature.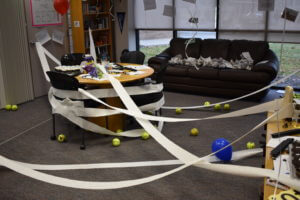 The staff included 40 of everything in their decorations, which means that 40 softballs, cupcakes, and stuffed wolves were littered throughout her office, including arrows pointing to her in the commons and happy birthday messages on the TVs.
Make sure to say "happy birthday" to Dr. Sprague if you see her.