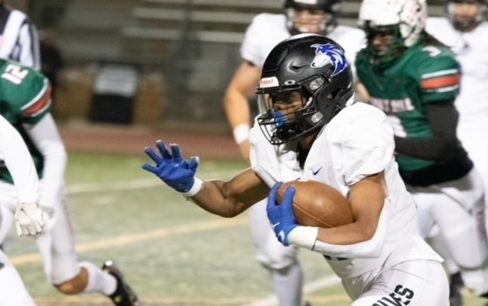 Chris Blanks varsity football's running back has displayed hard work and leadership while owning his position on the field.
With the potential of making it to the big leagues, Blanks continues to run forward and never look back.  Playing since the beginning of his life, Blanks has embarked on a journey of ups and downs throughout his football career.
"I always wanted to play football since I was little and then I started playing when I was in 3rd grade and have been playing ever since," sophomore Chris Blanks said.
Finding the strength to keep on working no matter the obstacles ahead has helped Blanks work even harder for his starting spot on varsity. 
 "Last year when I got pulled up to varsity, it was the first time I got put out there," Blanks said. "That first drive I scored and it was big everybody was congratulating me after it."
His work ethic and hard work from his freshman year only blossomed more in his sophomore year and helped him improve himself mentally and physically on the field. 
"Since seeing him last year as a freshman, he went in there thinking it was the same kind of football, but has matured a lot on the field this year, realizing that his job is his job," junior Donavon Vernon said.
Blank has shown intense growth over the past year and continues to grow as a running back. 
"Physically he has matured since last year, he's gotten stronger, and he's learned our system better which has helped him," football head coach Tom Doherty said.
He has not only developed in his understanding of the game of football, but has also shown improvement in his strategy. 
"He has gotten a lot smarter and he's been a little less patient and been a lot more explosive as a whole and I feel like he's having better ball-carrying vision," junior Sir Robinson said.
Blanks continues to show that there is no limit on the abilities that he has gained throughout the football season. 
"As far as running backs go, what makes him special is his patience in the hole," Doherty said. "Which means he really sees things well and he waits for things to develop and he also has some God-given abilities and he has maximized those abilities." 
Keeping his personal life out of football and sticking to the game that he knows best continues to fuel his passion for football even further.
"I admire how he doesn't care. When it comes to the real stuff and when it's something that really could affect him, he knows he needs to keep his mind up and straight, so he keeps focusing," sophomore Theo Byrd said.
Despite Blank's young age, he still prevails as a leader to his teammates and coaches.
"On the team, he's only a sophomore which is a big thing to have any kind of leadership [at this age], but he is a leader in the way he handles himself," Doherty said. 
Due to Blank's hard work, he acts as a selfless role model, friend, and supportive teammate to those around him. 
"He's a great impact. He has added depth to our team, has a great personality, an asset to our team and he's only a sophomore so that's the most exciting thing about it is so much room to grow," Dean Davis said. "I think he's going to grow and he's going to do great things in his program and I think he can play as a division one and running back." 
His commitment to the game of football will continue throughout his high school career and advises others like himself to work even harder. 
"Wait till your time is right and always listen during practices," Blanks said. "You should let your game talk."
Chris Blanks stats here: Max Preps