With a brand new school year also comes a brand new football season. A team fit for a successful and competitive season is on the field with a mix of a lot of new talent and veterans.
Last Thursday, the Wolves launched their season off with a commanding win over Overland (48-6). However, they don't hide the fact that each game shouldn't be taken lightly.
"I think our ability to play a clean game and play to our best ability no matter the team is how we should play each game," said senior quarterback Liam Szarka.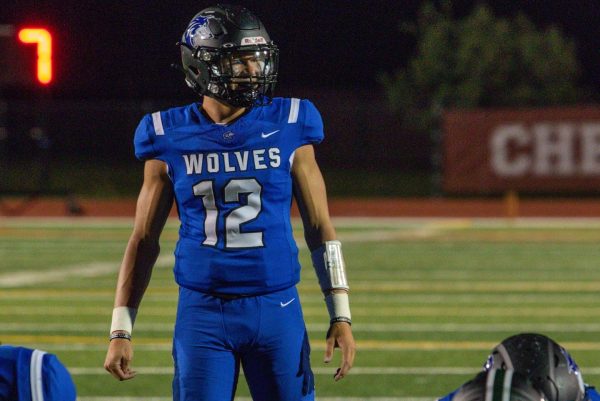 Szarka looks forward to seeing the accomplishments of new teammates alongside other experienced players. 
Story continues below advertisement
"I think I am most excited to see all the new guys succeed with all of us returning guys," Szarka said.
Senior kicker and wide receiver Kyle Chavez is excited to see its team potential this year. 
"We are a strong, physical team, and as long as we stay consistent I could see us making it down to Fort Collins this year," Chavez said. 
While having such high expectations and confidence for this year, the Wolves have had to face some challenges this off-season with nearly 20 graduated seniors 4 of which being starting offensive linemen. 
"Losing the seniors was definitely some adversity we had to face, but with leaders stepping up to fill their roles we had success getting up to speed and filling positions we lost," Szarka said.
Head football coach, Tom Doherty, feels struggle from the roster turnover. 
"We lost some great players but we also lost some good players the year before, and we will lose some good players this year," Doherty said. "So that's just the challenge of high school football, building a program not just based on the player but rather the program itself."
Doherty knows that the preparation during the offseason for a new season can be crucial. 
"Everything we do is to get ready for the playoffs from our summer weightlifting to the practice schedule, and our end goals," Doherty said.
Amidst great dedication, the team's bond remains unbreakable, and they anticipate playing a sport they love with a remarkable group of teammates. 
"I'm just excited with the opportunity to play the game I love with such a wonderful group of guys. I wouldn't trade them for anyone," Chavez said.