A Wild Year A Wild Time: Freshman Reflections
The crowded hallways stormed with incoming freshmen. The feeling of anxiety, stress, and excitement in full drive coursing through the veins of the youth. 
A bumpy ride ahead of them, not impossible not easy, and most definitely the hardest transition of all. Over the course of this school year, the freshman class has been through a number of experiences. 
"I [kind of]  just chilled the whole year, had my fun, but now I'm in school doing my business," freshman Kaylan Chu said. 
Being a freshman can cause many developments in personality such as self-discovery and expanded responsibility. 
"My freshman year was pretty eventful," Freshman Edward Martin said. "Around the beginning of the year, I was focused on organization, such as finding my classes and knowing where they are, while also feeling the environment and seeing where I fit in." 
Some find that the freshman classes that are provided at school are lacking in enjoyment. 
"The classes aren't fun and neither is the content. I know for some people high school is fun, but there is nothing that interests me," freshman Nox Trujillo said.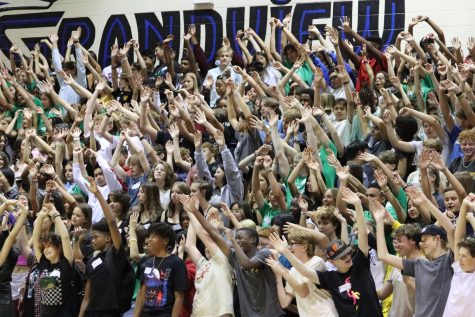 Even with the struggle of waking up on time for school five days a week, and attending 8-hour-long school days, there were many moments that deserve to be celebrated.
"I came in first place in a National Championship for the indoor track season," Martin said. " I tried my hardest and gave it my all and it turned out in my favor, I felt so proud of myself and it really showed me how far I came and how much I have grown." 
The importance of deep connections through relationships formed within the school walls has taught many freshmen the meaning of a true friend. 
"My biggest moment was meeting new people that became my friends and building relationships I didn't know I was going to create," Chu said. 
While some have grown to be more social throughout the community, these changes have also coincided with many having seen enormous improvements in their academics. 
"I learned to start caring more about my work and getting a better sleep schedule," Trujillo said.  "I started sleeping in class and turning stuff in late, after fixing these issues high school just seemed easier." 
The powerful growth mindset that this year's freshmen have exhibited is one that has truly shaken up the Grandview community. 
"I realized I had grown as a whole new person. High school nowadays is a place where you have no choice but to adapt,"  Martin said. "I grew and learned to be more mature as an individual. I learned social skills, and I learned to focus on the important things." 
Freshman year is a wild ride and a wild time. Yet, through all of the bumps, it's important to persevere no matter what. 
"You must enjoy and have fun," Chu said. "You're only a freshman once."