Cruddy Curriculum
Estoy fallando mi clase de español. Do you know what that means? If you are taking a Spanish class at Grandview, odds are you probably do not.
This year, the world language department has implemented a new textbook based curriculum in Spanish classes which has forced students into hours of rigorous work that, for all intents and purposes, isn't beneficial to the student body.
If anything, the curriculum is lessening student interest and making no or poor impact upon their grades.
A survey sent out to 40 spanish students (levels two and above) shows the student body's overall distaste in the new curriculum, giving the new textbook curriculum a two and a half star out of five rating. *

Spanish students, including sophomore, Gabe Brown, find the new curriculum to be frustrating, and don't see any benefit from the redirected vision for students.
Brown isn't alone in his thoughts. Although the curriculum may have been made with good intentions, it has only been an obstacle in the Spanish student body's path to learning the language.
Although there are a lot of vocal disapprovals over the new curriculum, some advocate for the new curriculum, including the world department coordinator, Christine Jauregui and Spanish teacher, Sarah Brunke.
"This year [is] textbook heavy in the way that we want all students and classes to have a similar experience, so we are asking all teachers to follow the curriculum to the letter," Jauregui said.
"Do I think it's more textbook heavy? Yes, but for a good reason…I'm happy not to spend 5 hours looking through Pinterest to find a video that the class could watch that would be appropriate and interesting…nothing ventured, nothing gained," Brunke said.
Though the two have fair points, the new curriculum still doesn't seem to have a positive impact on student grades. 
An additional survey question asks, "How do you think the new curriculum has affected your grades so far this year?" As seen in Figure 2, the majority of the survey takers, (65%) believe the curriculum has made no difference in their grades, similarly 19% of students believe the curriculum affects their grade negatively.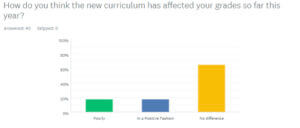 "At the end of the year," said Jauregui, " I would like some feedback from students and from teachers on 'How do you think this went?'"
Jauregui's open mind is an indicator of the possibility of change which lets the student body know, this cruddy curriculum doesn't have to be here to stay.