Cultural Night: Explore the World in a Single Evening
On April 28th, we will be celebrating Grandview's second annual Cultural Night, a unique event meant to help us appreciate the beautiful, diverse cultures that make up our school's community.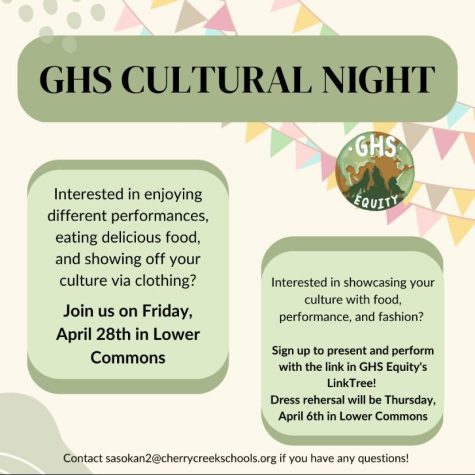 Last year, Cultural Night was a Senior Enrichment project. This year, all the credit goes to the Equity Club, who made some changes everyone can look forward to.
"I feel that this year, we're trying to incorporate a lot more clubs," sophomore Angela Wong said. "[Such as] reach out specifically to clubs to get the school more involved."
The Equity Club sought out these clubs to increase engagement. After all, a celebration of our school's diversity would be difficult without the students themselves.
"Last year it was a smaller kind of group," senior Alexandra Acosta said. "This year we have more people that I didn't know were [a part of] clubs at our school." 
This group's hard work to increase involvement from the community is bound to make the night all the more exciting.
"We thought it would be beneficial for the entire school if we were able to pull that off," sophomore Manisha Kaliaperumal said.
The active participation of so many clubs has allowed the Equity Club to broaden the scope of Cultural Night's representation.
"We have a lot of different cultures being represented from Asia, [such as] China, Vietnam, Mongolia," Wong said. " A lot of different cultures and countries [are] being represented in Latin America, as well as Europe."
Unfortunately, since Grandview's population is mostly comprised of white students, other cultures do not receive nearly as much attention as they deserve.
"A lot of times, it feels like specific cultures are celebrated more than others," Kaliaperumal said.
The Equity Club recognizes the necessity of increasing representation, and  aims to improve participation in Culture Night.
"A goal [of ours] is just raising awareness of the people around us and, you know, those cultures," Acosta said. 
Wong had similar thoughts regarding the importance of genuine representation of Grandview's community and culture.
"Especially in our present world, it's really vital and crucial to get that understanding and exposure to different perspectives, different cultural practices, [and] different foods," Wong said.
There is no shortage of inspiring interactions to be had with the wide range of cultures and activities that will make an appearance during Cultural Night.
"The performances are what I'm most excited about," Acosta said. "I know we have some people that are doing fashion shows and demonstrating the looks within their cultures."
This night will be an unforgettable one that the Equity Club hopes will become an tradition at our school.
"[We aim] for this event to continue because I think it's very important that we represent the diversity of Grandview, as well as of our greater society," Wong said.