Making Waves: Dan Berve's Impact on Boys Swim Culture
"I know his coaching method is perfect," Hash explained. "It's nuanced to the point where you can see exactly where he's trying to correct, whether it's wide or small."
With each stroke and every kick, the members of the Boys Swim and Dive Team are creating waves – not just in the pool, but in the hearts of their community. 
"It makes you feel warm inside every day," senior Devin Hash said. "It's the people that make you keep going to swim,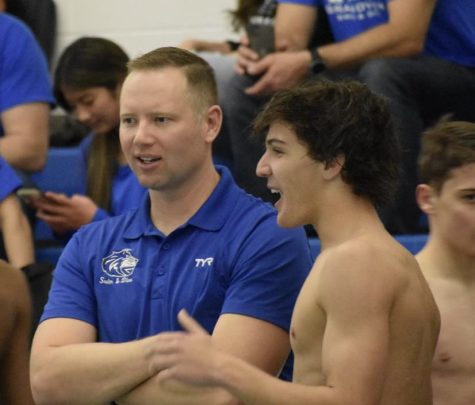 five minutes after practice, you can't wait till tomorrow when you see everyone again."
Hash, voted to be a team captain, is very noticeable at every swim meet, cheering on his teammates during every event and staying positive no matter what.
"I know I'm obviously not the best on the team, but I want to help the team as much as possible in any way I can," Hash said. "Cheering for people and giving good encouragement is my way of giving back and showing appreciation to all those swimmers who come out every day and do their hardest."
While Hash is a member of the Varsity team, a key component in helping make the swim team feel as one, which includes cheering for everyone, including JV. Unlike most teams, Grandview's JV and Varsity all know each other and get along.
"There's not really a division between Varsity and JV, and I think we're all one team,"  senior and fellow captain Matthew Sccichitano said. "This year, I think it's the best of all my four years."
This camaraderie is felt throughout the team and creates a group of friends where memories are made.
"My favorite memories are team dinners, or just team functions when we're all together outside of the pool," Scicchitano said. "When we all connect outside of the water, even when it's just playing spikeball or something at someone's house, it's just the best memories you have."
However, this connection isn't just for the swimmers as it also includes the coaches.
"He's fun," Scicchitano explained when talking about head coach Dan Berve. "He's really approachable, and he knows how to crack a joke every once in a while, so it's like having a friend as a coach."
Berve doesn't just bring fun to practice, but he also pushes hard work.
"I like to challenge them while also making them want to come back every single day," Berve explained. "We're not here to play games every day, but we do like to keep it fun so that they're motivated to work hard for each other."
On top of that, Berve also tries to be personal with every swimmer, no matter their skill level.
"I know his coaching method is perfect," Hash explained. "It's nuanced to the point where you can see exactly where he's trying to correct, whether it's wide or small."
Berve, a coach who's been a part of the swim world his entire life, has trained for the Olympic trials and been coaching swim teams for years. Today for Grandview, he is using his experience to become a better coach.
"I had great coaches when I was growing up," Berve said. "I take from some of the coaches that I interacted with, the good and the bad."
Berve's approach to coaching has paid off as Grandview prepares to compete for one of the best years in Grandview Boys Swim history.
"My sophomore year was the best year ever in high school history, and this year I think we're gonna have an even better year," Scicchitano explained. 
The culture on the boys swim team has created one of the best in Grandview sports, and it could be the key to creating something special.
"The best part of being a coach is watching one of your athletes do something that they've never done before, and that happens every season, every season," Berve said.