From Colorado to The Emerald Isle: Exploring Ireland With Performing Arts
"It is truly a trip that I will remember for the rest of my life, and not just because I got my ears pierced while we were there," Sevy said. "I spent time with some really awesome and special people, and going to places like the Cliffs of Moher made me feel like I was living in a fairytale."
Over spring break, 250 members of the performing arts department traveled across the pond to Ireland. This was the department's first international trip in six years. The group travels internationally every three years, but their planned trip to Germany and Austria in 2020 was canceled due to the COVID-19 pandemic.
This year, students were given the opportunity to tour four different cities:  Cork, Limerick, Galway, and Dublin. Orchestra, choir, and theatre were given chances to perform in different cathedrals around the country, while Wolf Pride Band marched in St. Patrick's Day parades.
"The orchestra had opportunities that were unique and very special to this trip, particularly, performing at a private reception for the Mayor of Cork, which was such a highlight," orchestra director Mindi Loewen, said. 
Despite the gloomy weather, each group put on outstanding performances, with one of the most memorable being the marching band's win at an international competition. 
"I was most proud of the band for battling through very cold temperatures and pouring down rain in Limerick but still having a wonderful performance and earning Best Youth Band for the Limerick International Band Competition," marching band director Keith Farmer said. 
Performances for each group differed in many ways, adding to the excitement and chaos of the trip.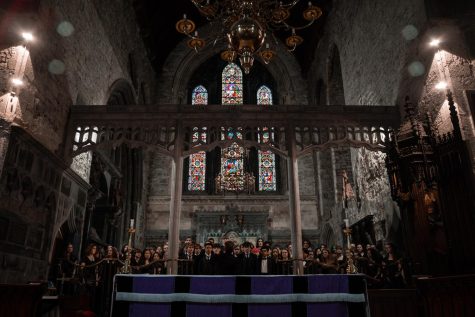 "This trip was different in that each subject area of the performing arts team had their own separate performance opportunities," Loewen said. "This made each group get their own 'moment' and I really thought that was a great thing the travel company put together for our Grandview students."
Sophomore Nora Khalilian shared her experience being part of several groups on the trip. 
"I was in a unique situation because I was one of few people doing three groups. One time I started with theatre, played in orchestra, and then finished the performance with singing in choir," Khalilian said. "Although it was chaotic running around from group to group, I would do it again."
In addition to performing, students could go sightseeing and immerse themselves in the rich history and culture of Ireland. According to  Royce Ehrle, a member of the marching band staff, experiencing different cultures firsthand is a huge part of the trip. 
"I think it's important to understand and celebrate different cultural approaches to everyday life, and world travel gives us that opportunity to observe and participate in those different perspectives," Ehrle said. 
Students shared their experiences and favorite parts of the trip, including visiting castles and other famous landmarks.
"My favorite part of the trip was visiting all the landmarks such as the castles and churches and learning about the history behind them," senior Kyle Chu said.
Senior Hannah Sevy, a member of the choir and theatre groups, shared a few of her trip highlights as well. 
"It is truly a trip that I will remember for the rest of my life, and not just because I got my ears pierced while we were there," Sevy said. "I spent time with some really awesome and special people, and going to places like the Cliffs of Moher made me feel like I was living in a fairytale."
By the end of the trip, students were left with a new appreciation for different cultures and memories that will last a lifetime. 
"I definitely did not think I would have as much fun as I thought," sophomore Jason Nam said. "I feel like this trip is going to be a big part of my high school experience and will forever be with me as I think about the memories of performing in and exploring all of the cities in Ireland."