Inspiring Future Industry-Breaking Women: Women in STEM Club
"Women in ​​​STEM is so much more than a club," Kroger said. " We need more women in all of STEM and the way to get there is through these smaller clubs, getting women to feel comfortable in STEM."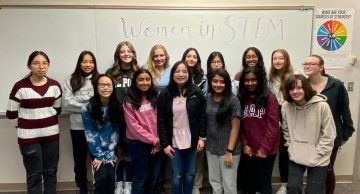 With Women's History Month coming to an end, it's time we acknowledge all the women making a difference in our world and those that can be found right here in Grandview High School. Women in STEM is a club designed to empower women in a field where men tend to dominate. It allows women to shine through and also gives a sense of familiarity. 
"Women in STEM is important because it creates a community in a male-dominated environment and it kind of helps women feel more comfortable learning STEM-related applications without feeling ashamed," officer Falisha Amir said. "From personal experience, I've been in STEM fields and if I don't understand something,  I'll get stuff for it for not understanding specific things from guys." 
Women in STEM fosters a community and encourages girls to build relationships with other young women who share similar interests while also doing what they enjoy. 
"It offers an environment to learn those STEM areas even if you don't know them yet, but in a safer environment where you don't feel as judged as a girl, so you just feel more welcomed,"  officer Harriet Kroger said.
By participating in STEM programs like Women in STEM, girls can gain confidence and develop the skills they need to succeed in these fields, thus helping to break down barriers and promote greater diversity and inclusivity in STEM industries. 
"Women in ​​​STEM is so much more than a club," Kroger said. " We need more women in all of STEM and the way to get there is through these smaller clubs, getting women to feel comfortable in STEM." 
The club also provides opportunities to apply real-world skill problems and assists girls find their way in STEM. 
"STEM stands for science technology engineering and mathematics," Kroger said. "Women have been behind the curtains influencing STEM for hundreds of years, but it's a lot more recently that we've kind of gotten to see women in STEM." 
It's important for women to be in this field as it creates new perspectives and brings new ideas to the table. Women in STEM encourage their members to make such ideas and think in new ways.
"Ada Lovelace was the first computer programmer ever in history and her impact is hidden a lot because she is a woman and people don't shine [a] light on that," Amir said. "It's still important and I think it's encouraging for at least other women in STEM."
Women have made significant contributions to STEM fields throughout history, although they have not always been recognized for their achievements. Only in recent decades have efforts to promote gender equity in STEM gained traction, which has been visible as more women enter and excel in these fields. 
"Women have always been a part of STEM but without the recognition, so now in a chance to get equal footing, it means that we have an equal say," Kroger said. "The opportunity and the development is all endless if we can get that equal representation."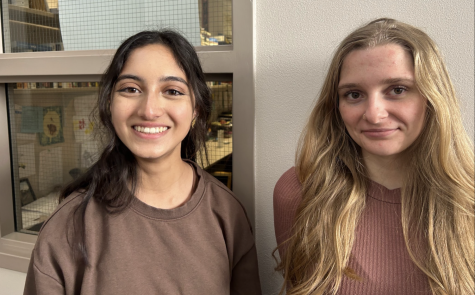 The club also gives an opportunity for women to learn more about the field and indulge in their interests. Women (and men) in this club can figure out career paths and can help them find their true calling.
"My favorite part about being in STEM is being able to explore different interests of mine and careers of mine," Amir said. "I'm interested in mechanical engineering and software engineering. So, in STEM, I just get to learn about work and be able to create my own stuff using coding languages."
To achieve this, Women in STEM attempts to foster a welcoming environment for women to express themselves and also gain confidence in what they are doing. 
"People should join Women in STEM because it lets them work in a space where they are not judged or prejudiced against them," Amir said. "We try to create an environment that's very open for everyone and we can also help with learning." 
By working on projects together, girls can not only learn new skills, but also develop valuable teamwork and problem solving abilities. The friendships and connections they form can also  provide a strong support network that helps sustain their interest. 
"We just want girls with similar interests to bond over STEM and learn more like we'll do some projects together, we break off into groups depending on interests," Kroger said. 
The club hosts many fun activities during their meetings like guest speakers, breakfasts, or just simple meetings where members get the chance to talk to each other and lift each other up. The club is completely student-decided, as members get to decide how they want to run the club.
"We kind of just go based on what the members want and what everyone wants to do," Amir said. 
Building confidence is a crucial component of helping girls succeed in STEM. In many male populated fields, it can be hard to practice communication and leadership skills. The club is helping girls use their confidence and skills in STEM to empower themselves and take on challenges in the world. 
"We work a little bit on trying to make girls feel more confident," Kroger said. "You have to be assertive in male dominated fields, but overall just skills and we try to foster skills to help you do well in stem and we also just want to foster that love for STEM."