Climbing to New Heights: Rosario Cornell, National Qualifying Competitive Rock Climber
"My goal is to make it to Worlds for USA Climbing," Cornell said. "I have made it to Nationals before, but Worlds is just the next step."
Competitive rock climbing, a sport that requires the perfect combination of agility, speed, and mental strength as one rushes to the top of a wall at breakneck speeds. Freshman Rosario Cornell is one such climber who embodies all of these qualities, which were able to assist her in placing at The Scholastic Climbing League's most recent girls' individual Regional competition.
"[I placed second at Regions, which] is a competition for all high schools to compete in, and try to rank themselves," Cornell said. "But, it is more individual."
Cornell was also the only wolf present at the competition but has future plans to increase climber numbers.
"I am the only person climbing from Grandview," Cornell said. "But I know this other person named Weston [Emerson] who is going to join next year, and then we might start a two-person team."
Climbing almost runs in Cornell's blood as her family has long ties to the sport.
"My dad, he was a rock climber when he was in high school," Cornell said. 
But, Cornell originally started out her athletic career in ballet, until repeated injuries caused her to reconsider her pathway.
"I kept spraining my ankles, so my dad introduced me to climbing because he thought it might be better for me, and then I just kind of fell in love with it," Cornell said.
Seven years into her climbing career, Cornell has found herself qualifying and competing against some of the nation's best.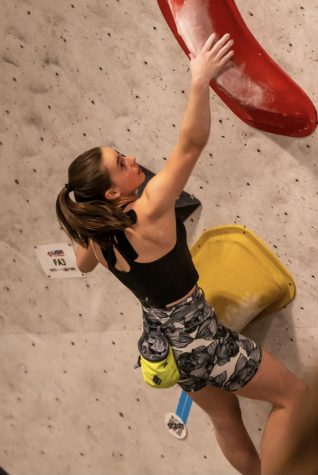 "My goal is to make it to Worlds for USA Climbing," Cornell said. "I have made it to Nationals before, but Worlds is just the next step." 
There are multiple layers of complexity to climbing that may not be visible to the eye of someone who has never climbed before.
"You have to be able to figure out where you want to move your body on the wall so that you can reach the next hole," Cornell said. "It's kind of like problem-solving." 
Climbing is also a very physically-taxing endeavor.
"It's very important to be able to pull yourself up, so arm and upper body strength [is critical,]" Cornell said. "And then being able to jump or have vertical. But overall, just being able to have control over your body."
Yet the sport's physical intensity does not nearly compete with its mental complexity.
"It's more mental than anything. You have to figure out where you want your body to be." Cornell said. "If you are looking at this climb, it is not going to just be straightforward, like a ladder. It is just a very complicated movement." 
Rock climbing is also divided into three different parts of competition.
"[There is] speed climbing, which is how fast you get up to a specific root," Cornell said. "I think my time [for that event] was 21 seconds."
The second event nearly matches the fast in speed, but differs in distances covered.
"Then there is top rope, which is really tall walls and you have a rope, and it is basically how high you can get in one attempt," Cornell said. 
Finally, the third part is the polar opposite of the previous two, but still requires just as much mental ability and pure physical strength.
"[Also there is bouldering,] the other type of shorter wall, so you just fall onto the ground, but there is padding so you won't get hurt," Cornell said. "You have four minutes to try to solve a route or get as high as you can."
The climbing community has also increased in recent years, with one of the most prevalent examples being the inclusion of climbing on the world's top athletic stage.
"The first Olympics for climbing was the last Olympics, but it is getting a lot bigger. Most of the gyms are so crowded now," Cornell said. "There are just new people every single time I get in there."
While Cornell possesses the skills to pursue a professional climbing career,  she sees a different future for herself.
"Personally for me, I think I might just do collegiate, which is the college level," Cornell said. "And just focus on school."
Cornell also had advice to offer up to anyone interested in learning or getting involved with rock climbing.
"Just have fun and try as much climbing as you want," Cornell said. "Focus on your technique and your movement, and then you'll be better off later on."
Beyond focusing on technique, Cornell also reiterated how age and past experience holds little hold on a future climber's ability to pursue the sport.
"Like my dad, he is 52, and he still climbs really really hard," Cornell said. So I thinkl you can do this at so many ages, like maybe not competitively, but you can still rock climb at any age."