Juniors Giving Away Free Prom Dresses; Second Annual Prom Dress Exchange
"People get to actually participate in the 90s movie, romantic plotline of their dreams when we are able to get them free dresses."
After school on March 9th, used prom dresses, suits, and ties lined the tables of the Lecture Center, waiting to be picked out.
Juniors Grace Lichwalla, Ananya Kashyap, and Ella Barrett worked with student volunteers to organize Grandview's second annual Prom Dress Exchange. 
Building off of last year, the students decided to collect suits and hold a second exchange on Friday, March 10th to make the exchange more accessible. 
"Last year, we got a lot of overflow once people actually knew [what] had happened," Lichwalla said. 
With prom dresses costing hundreds of dollars, preparing for prom can serve as a source of stress for students. 
"There's a lot of people I know that straight up buying a prom dress may be out of their budget," Lichwalla said.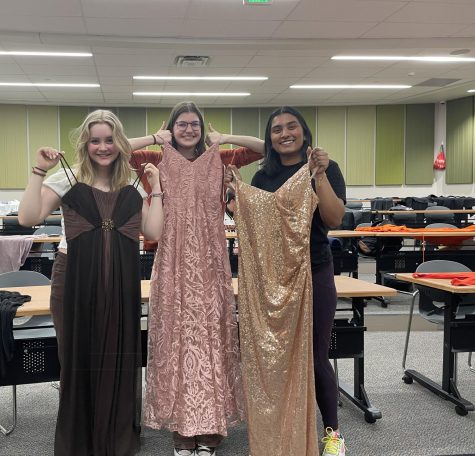 The group hopes that their efforts will have a lasting impact on the Grandview community. 
"If we start it now, it'll keep going," Kashyap said. "Even when we're gone, more and more people can benefit from it."
The prom dress exchange helps to transform discarded prom clothes into a special night of a teenager's life. 
"They're here being used and loved again," Barrett said. 
Free dresses can also help to normalize a teen's high school experience.
"It's just an important part of growing up," Linchwalla said.  "People get to actually participate in the 90s movie, romantic plotline of their dreams when we are able to get them free dresses."
Every student is invited to look at the dresses, whether they are in need, or would just like to save money.
"It's a judgment free zone where we really try to make everyone feel accepted," Barrett said. "There's very low stakes if you just want to try something on and it doesn't work out. There are no consequences."