Girls Basketball Secures 6A State Championship Second Year in a Row
The Varsity Girls' Basketball team secured their second state championship title in two consecutive years this past Sunday after beating out Monarch High School 38-28.
Going into the final game, the Wolves were ranked fourth in the 6A division, with a 19-8 wins-to-losses record. By comparison, Monarch boasted an impressive first-place division ranking, with a record of 26-1, with their only loss being against Regis back in December.
To say it lightly, the Wolves were uneasy going into this game. 
 "No one thought we were going to get this far," senior Sydnie McClain said.
Similar thoughts were echoed when the team looked back on the turbulent journey this season had been.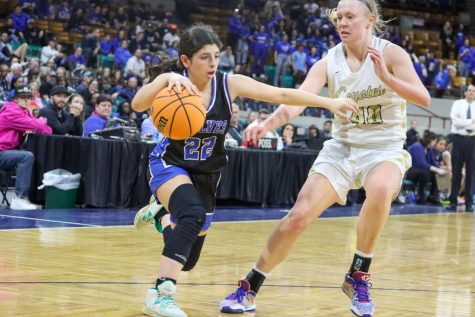 "Oh my gosh, [this season] was a lot of ups and downs," sophomore Deija Roberson said. "It was just a roller coaster.
Even when faced with a daunting challenge going into this game, the girls banded together in order to support one another and continue to grow. 
"We knew that coming into this that it was going to be hard, but we also knew that it was about trust," McClain said. "About believing. About love." 
This comradery was echoed by several members of the team which they used to keep themselves centered through every second they were on the court.
"The whole game, all I had [to believe in] in my team," senior Benedicte Kalala said.  "Like I knew that we could win."
"I am so happy for my team. I am so proud of them," Roberson said.  "They deserve it, and we worked so hard for this."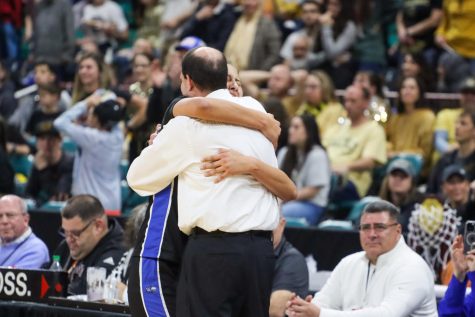 The girls also pulled from outside sources of support stretching for coaches. 
"[Coach Baird] wasn't able to be here today, but I appreciate him so much, and all his support and his love," McClain said.  "I know that he wasn't here on the court with us, but he was in my mind, and he was with all of us."
Similar appreciation was also shared to loyal fans that supported the team throughout their entire season.
"I want to [thank] Luke Trinrad and Ethan Oh for being our number one supporters for every game," McClain said.
Dedication also played a role in helping the team progress where raw talent ran out.
"You can have all the talent in the world, but hard work pays off," Kalala said. "Nobody thought we would make it here, but hard works pays off and this is what we got for it." 
With the game's conclusion and the season's end also marked the end of several seniors' high school basketball careers, which evoked several emotions across the team.
"I realized that I am going to miss these girls so much and I can't imagine not being with them everyday," sophomore Sienna Betts said.  "I just love these girls so much." 
Regardless of closing chapters, each one of these talented players will continue to remember every aspect of their progress made throughout the year.
"I am thankful for the journey. I am thankful for the road," McClain said. "I am thankful for the losses, the wins, and the doubt. I am thankful for all of it."
Check out the full photo gallery below for more pictures from the game.