Du Sprechen Deutsche; Opportunities Found Through German Class
Frau Allen has an overwhelming passion for teaching. She loves her students, her classroom, and the atmosphere she creates in her classroom. Allen is Grandveiw's German teacher, and she adores the language. She has a connection with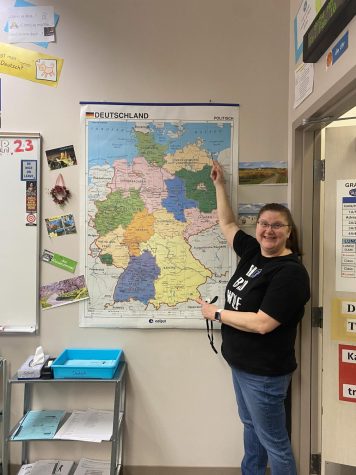 German, as it is her heritage and a massive part other life. However, Frau Allen has seen a pattern in the amount of students enrolling in her class. 
"This year, my German classes have been so much smaller. I would say they are about 40 percent fewer students," Allen said. 
She stresses that this is not a one-year occurrence, and the numbers have been gradually dwindling in her Level 1 classes. 
"I get two level-one classes, and my classes build on top of that to the ongoing levels," Allen said. 
Without enough interested students, the language class would be forced to shut down. 
"That's what happens," Allen said. "If I don't have enough students to continue my program, I could not continue teaching German. I have to admit, I am a little worried."
While Allen cannot pinpoint an exact cause for declining enrollment, she theorizes it could be the loss of overall student numbers, uptake in Spanish interested students, or lack of knowledge about the languages provided at Grandview. 
Despite the reason, the amount of students in the class is undoubtedly becoming smaller and smaller. Yet, she is trying to promote the class as much as she can. 
"German opens up so many opportunities that many people don't even realize." Allen said. "Germans are leaders in the tech industry, engineering, in sciences, and they have been for years."
Using the German they learned, Allen's students have gone on to travel to Germany (and countless other places) to explore engineering and science opportunities. Even her students that did not go on to scientific paths have benefited greatly from her class. 
"I have gotten letters from my former students in college, thanking me for teaching them English. English, not German," Allen said. "They told me their English grammar was so good after taking German that they never made any mistakes on their papers in college." 
Additionally, German is also a very prominent language in the world.
"A lot of other countries also encourage learning German as the number one or two foreign languages, usually behind English," Allen said.
While Allen encourages learning German, she understands students are often torn between two languages. 
"I tell people all the time to take two language classes. Learn two languages. Especially if that is your passion or interest," Allen said. "If you really think you want to learn this language, but you also really want to learn another, learn both." 
German is an amazing language, with a fantastic teacher, classroom, and culture behind it. Ultimately,  Allen's wish is to spread her knowledge of German to as many people as she possibly can. 
"German is my passion," Allen said. "I love teaching German."