Athlete of the Week – Gavin Placide (1/30)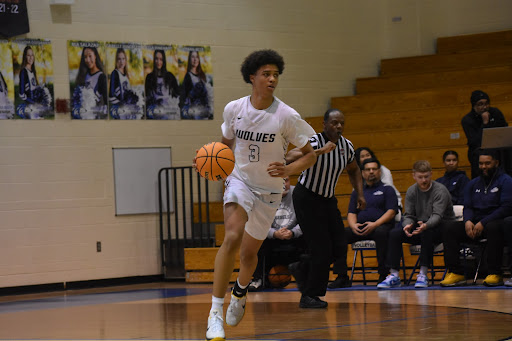 Our Athlete of the Week is Gavin Placide, a freshman and point guard for the Wolves.
What is the sport of basketball to you?
To be honest, basketball has become a bit of a lifestyle now. Sometimes I wake up and it feels like a loop, but it's what I love so I don't complain.
What drove you to wanna play basketball?
Growing up, it was a lot of my dad putting on NBA games, and we just constantly watched it, and it really took a toll on where I am today.
How long have you been playing basketball and have there been other sports besides basketball?
I've been playing for as long as I can remember, whether it was shooting on a mini hoop or if it was shooting into a laundry basket. I did play football, but regarding how lengthy I was, I decided to just focus on basketball.
What NBA player do you try to model your game after, and why?
I really do enjoy watching Kevin Durant play, and we both do have sort of the same build. That's why we play pretty much the same.
How do you get in a good mindset before a game and why is it important?
I usually just listen to music to calm me down, and it helps me play at my full potential.
What keeps you motivated so that you can play at your best?
The potential that basketball holds for my future.
What do you believe you bring to the team?
Anything that the team needs I try to provide.
Does the environment bother you at all when you play?
No, not when I play. I'm kind of used to that environment at home because I have two siblings, but besides that, not really.
What is it like managing basketball and school life?
It can be a lot sometimes, and it takes up tons of time, but in the end, it's all worth it.
What are some goals you have for the season?
I would like to average 10+ points a game, along with 5+ rebounds a game.
How can you accomplish those goals?
Work on my game.
What are your plans for basketball in the future?
I really want to play professionally. It's been my dream for a long time, and hopefully coming out of high school I can play at a Division One school.
If you had to give any advice to new basketball players what would you tell them?
Work hard, play harder.