CCSD's Mental Health Treatment Center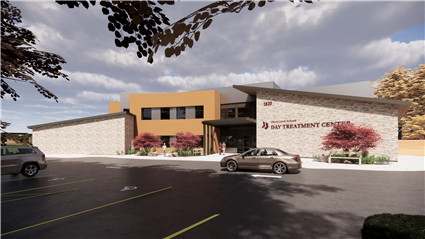 In partnership with the CU Department of Psychiatry and the Colorado Children's Hospital, CCSD is opening a mental health day treatment center.
This facility comes as a response to Colorado's mental health crisis.
"We have a huge increase of acute and really serious mental health problems," vice chair of the CU Department of Psychiatry Dr. Bruno Anthony said. "At the Children's Hospital, we had a 90% increase in the need for really intense treatment over the past two years."
Worldwide, there has been a 13% rise in mental health conditions. With a death rate of 21.5 per 100,000 people, Colorado has one of the worst suicide rates in the United States.
"At any point in [the district,] we have 10 to 15 students who need this kind of day treatment and can't get it," CCSD's Superintendent of Special Populations Dr. Tony Poole said. "By opening our own facility, we're going to be able to take care of kids who need these services and can't access them." 
Cherry Creek's day treatment facility is the first of its kind. It's where clinical psychiatry and education meet to provide comprehensive care to students.
"It's going to take a lot of work. We're going to be doing things that nobody's ever done,"  Dr. Poole said. "I'm hoping that when we're done we'll have blazed this trail and it'll make it easier for other school districts to go through this process."
The facility consists of three "wings"– the first being for people still in a severe mental crisis. As they get better, they'll be moved to the moderate wing. Eventually, they will be in the transitional wing with more education and less therapy until they're ready to return to normal school.
"It's much easier [for students] to get to treatment because it's part of the school,"Dr. Anthony said.
Once the center is built, students can be referred there by a mental health professional or teacher.  After getting referred and admitted, the first step is a comprehensive evaluation.
"We'll develop a very individualized treatment plan [for them]," Dr. Anthony said. "We'll work with their families about doing work at home. We'll also work with the school to help them support this student until they get back into [regular school.]"
The facility will be open by August 2023 on Cherry Creek's Joliet Campus. 
Additionally, it is not a traditional treatment center. To list a few of its features, the building will have a fitness center with a climbing wall, a coffee shop, and a walking path around the property. 
"We've really gone to great lengths to make sure that this facility won't feel institutional,"  Dr. Poole said. "We wanted it to feel warm and welcoming."
Dr. Anthony said that putting students in a comfortable space similar to the school environment they're familiar with would "promote their engagement in the [therapy] process." He hopes that other school districts will follow this model so fewer people will have to resort to things like suicide or self-harm. 
The funding for the facility comes from a bond signed by Coloradan voters in 2020. The center will cost an estimated amount of $15 million. 
"If it saves one life," said Dr. Poole. "If it saves one kid's life, it's totally worth it."
Mental Health Resources
The I Matter Colorado program connects you with a therapist for up to 6 virtual therapy sessions that (if you're over 11 years old) don't require parental consent and are completely confidential. 
The Trevor Project – for LGBTQIA+ people; text 'START' to 678-678, call 1-866-488-7386, or start a chat. 
SAMHSA's National Helpline is a confidential, free, 24-hour-a-day, 365-day-a-year, information service, in English and Spanish, for individuals and family members facing mental and/or substance use disorders. This service provides referrals to local treatment facilities, support groups, and community-based organizations. 
You can also connect with a trained counselor by calling or texting 988.