Connor Miller: Professional Athlete at 17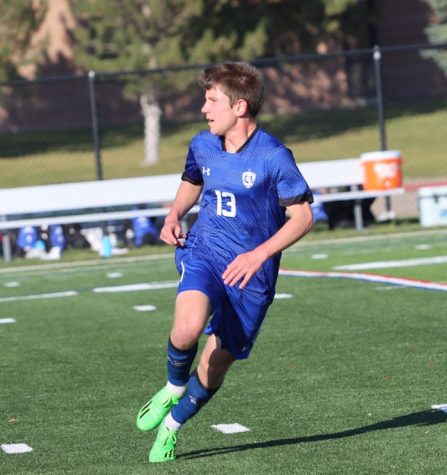 Imagine having the skills to become a professional athlete while still having the brains to go to an Ivy League school. That's the case for Senior Connor Miller, boys soccer's starting midfielder.
Throughout Miller's soccer career he has had numerous opportunities to play across the country and the world.
"One of the biggest opportunities that I've had is to go overseas to play. I've been overseas three, four times to play soccer and played at a professional Academy in England called West Ham United," Miller said. "I trialed with them for a couple of weeks,  and if I had been an English citizen I would have made the team."
Outside of his time overseas, Miller has also played all over the US as a member of MLS Next and the Colorado Rapids.
"In my club our away games are out of the state most of the time," Miller said. "And then any tournaments are also often out of state."
Although these opportunities have been life changing for Miller, the added pressure of being on a professional team  has led to the loss of a lot of valuable school time.
 "My team has had a preseason where we've gone out of the state for a couple of weeks to train and get ready for the season," Miller said. "Last year, I missed about a month and a half worth of school being out of state and that was difficult."
Thankfully, Miller has been able to work with Grandview to make a schedule that allows him to handle both his soccer schedule and his school schedule evenly.
"I only go to two in person classes a day, I'd go to 1A and 1B and 4A and 4B, and then I'd take two classes online," Miller said.
On top of his counselors helping his schedule, Millers teachers have been just as supportive.
"It was a little bit difficult to explain to them why I was going to miss a month and a half, but once they realized why, they were very supportive and did all they could to help me not only be prepared to leave but stay on top of things," Miller said.
Even with the help, school was still a lot to handle with all the missed time.
"There have definitely been weeks and months where I've come straight home from school and done homework for five hours straight, gone to bed, woken up, gone back to school, trained, and then done homework for five hours more," Miller said.
Thankfully, Miller's grades have not suffered and he's maintained good enough grades to be one of the smartest students in his class.
"He's very studious and he's honestly kind of a genius," Senior and fellow teammate Will Lujan said. "He gets his work done in class and on the field. So dang impressive guy around."
With the combination of his soccer skills and his schoolwork, Miller has obtained one of the most impressive resumes at Grandview and it's allowed him to commit to Cornell, where he'll most likely major in engineering.
"I'm very excited about Cornell and the conversations that I've had with the coaches only makes me more excited." Miller said.
For Miller, Cornell was perfect for both his aspirations in soccer and in academics.
"I chose it because of both," Miller said. "My mom had me think about what she called the break leg test, which is like if I got injured to the point where I could no longer play soccer. Which university would I rather be at, and the engineering program at Cornell is just better."
Cornell won't be the final stop for soccer, as Miller hopes to continue his professional career once he graduates.
"A dream scenario after Cornell would probably be to go straight overseas," Miller said. "If that doesn't happen, then it'd probably be to play in the MLS for a couple years and then go overseas."
For now though, Miller just recently finished his first season playing for Grandview, previously being held back by his club team.
"These are guys that I've known for a long time, and I know have played my sport, and yet I've never ever played with them," Miller said.  "So when the opportunity presented itself to be able to play on this team, I couldn't help but say yes."
Connors new teammates shared the same excitement and were overjoyed when they heard he was going to play. Connors' impact lived up to the expectations and he helped Grandview make it to the playoffs after a dominating win against Eaglecrest.
"He had changed the team's mindset because it was like this guy who is a pro player is coming in and just deciding to play high school with us," Lujan said. "It was just fun having him there and everyone seemed to be smiling almost the whole time."