This Girl is Going Places
By Conrad Casebolt
Lauren Betts is one of the few people you should take seriously when she says she wants to go pro. The six-foot-seven phenom is ranked as the best basketball prospect in the class of 2022 in the entire nation. 
By no means, though, is Betts an anomaly. Both of her parents have competed at some of the highest levels of sports.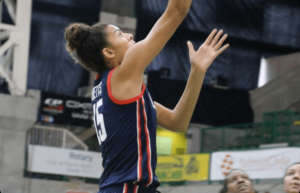 "My dad is a retired professional basketball player, and my mom played volleyball in college," said Betts. For the Wolves' starting center, there has never been a doubt about her athletic talent, only the question of what she should use it for. 
"I used to play soccer, and I was a competitive swimmer when I was little," said Betts, "but once I got introduced to basketball, I fell in love with it." 
The young star attributes her success to both her physical ability and her competitiveness. 
"My height has always been a blessing to me so I'm really thankful for that," said Betts, "I'm really competitive, and I'm really tough out there on the court because I don't want to lose. It makes me work harder."
Though her career has been short, Betts has already gone on to do things that most athletes can only dream of accomplishing. According to her, the best moment of her career was being selected to play basketball with the U16 National Team. Through a daunting tryout process, she was able to make the 12-girl roster with some of the best up-and-coming players from around the country.
"So we all showed up, and then they cut people every day. There was a list outside the door and it had all of our practice jersey numbers. They would cut it shorter and shorter until they made it to the final 18, and then they did a few days of practice, and finally cut it to 12. At the end they did this whole meeting with the head coach and one of the assistants and they told you if you made the team or not," said Betts.
Despite playing on the biggest stage in the world, Betts did not disappoint. She earned one of five spots on the FIBA U16 All-Tournament Team and averaged 13.5 rebounds per game – a USA U16 team record. The team went on to win gold in Chile behind the outstanding performance by Betts.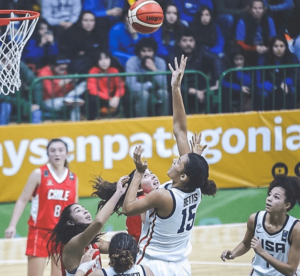 When it comes to basketball, there is no doubt that the 16-year-old is going to be able to do anything she sets her mind to. Even though the bar is set high, her ambitions are set even higher.
"Playing in the WNBA is something I've always wanted to do, I love watching them play," said Betts. "Hopefully after college that's something I can do."