Grandview Boys' Lacrosse Holds District's First Unified Lacrosse Clinic
Friday, February 9th, the Grandview Boys Lacrosse team joined forces with the Eaglecrest Boys Lacrosse team to coordinate the district's first ever Unified Lacrosse Clinic.  The goal of this event was to bring together all of the Unified Athletes who attend Thunder Ridge Middle School, pair them with current High School players, and open them up to a new, exciting experience.  Ultimately, this allowed for hours of fun and a night none of us will ever forget.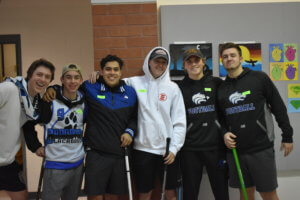 The clinic was the idea of Marni Clay, a member of the Grandview Boys Lacrosse Booster Club.  Grandview's head coach, Patrick Chapla, created the drills and organized the event as a whole.  The clinic included teachings on how to shoot, catch, pass, and dodge.  For the grand finale, Chapla created two teams containing the Unified athletes intermixed with players from both the Grandview and Eaglecrest teams to have a twenty minute scrimmage.
Austin Whitcher, a senior and defensemen on the Grandview Lacrosse team, began participating in Unified events two years ago.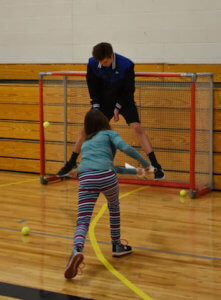 "When I was a sophomore, I went to go watch a Unified game because one of my friends was a partner. Once I saw them play, I knew immediately that I wanted to be a part of this program," said Whitcher.
With his previous experience in working with Unified, Whitcher was able to lead with example and show all of the players on both teams how best to interact and teach the kids.  Throughout the evening of the clinic, Whitcher, along with the rest of the boys, were able to communicate, have fun, and teach the kids about an exciting new sport that most of them had never seen or played before.
"The Unified Lacrosse Clinic that our team put together was so special to me because all of these kids were running around, playing lacrosse, and just having a great time.  It took two things that I love doing, lacrosse and helping out with unified and put them together. I'll never forget that," said Whitcher.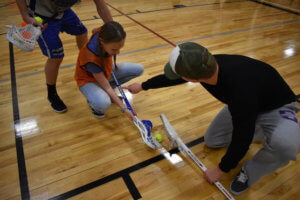 Another member of the Grandview team, Tyler Hussey, and the majority of the boys from both teams, had never participated in any sort of Unified clinic before. This clinic not only allowed Hussey to experience something new himself, but also allowed for him to create memories that will last a lifetime.
"I made good friends with a girl named KC, she really stuck with me the whole time. She was extremely kind, funny, and tried really hard in all the drills. The smile on her face when we taught her how to shoot is something I'll always remember," Hussey said.  
This clinic was extremely special to the Unified athletes and all of the current Grandview and Eaglecrest players.  It opened up everyone who attended to new experiences and allowed each and every one of us to create new, lasting memories. To leave off, Hussey had this to say about Unified events: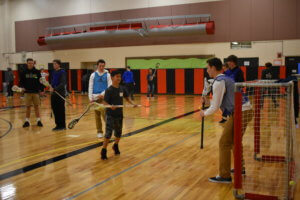 "I think everyone should go out and try it sometime, no matter the sport or activity.  They're a great way to make memories and teach kids something that you enjoy doing with hopes that they enjoy it as well," said Hussey.
Along with that, Whitcher had this to say:
"The Unified athletes love it when people come to watch their games. I would like to see a lot more people show up to those games and support these athletes. Also, I know they would really really appreciate it if more people came to watch them play too," said Whitcher.
Come out to support your Unified Athletes this Spring season for Track and Field.