By Aidan O'Keefe, Photos by Macy Bingham
In early September during the busiest week of school, some of Grandview's teams and clubs participated in the annual Homecoming tradition dubbed the Spirit Bus, in which they visited some of its feeder elementary and middle schools, to give them a little taste of Wolf Pride.
The schools the spirit bus visited included Fox Hollow, Liberty, Falcon Creek, and Creekside, as well as a couple other feeder schools.
"Basically any sport or club that wanted to be involved like football, wrestling, unified and a bunch of others participated in the the spirit bus activities," said junior, Casey Browne.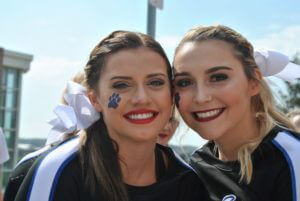 The students were dismissed from first period and left for the entire day to take part in the Spirit Bus, then returned back to Grandview for the Homecoming Pep Assembly.  "It was great to see the whole school unify for a good cause" said Browne.
"My favorite part was running through the elementary schools and seeing all the kids light up."
The Spirit Bus gives younger students a chance to interact with some of the Grandview students that they will someday grow up to be.
"At the middle schools the cheerleaders get to go in the stands to get more interaction with the kids, it's a lot of fun to sit by them and get them all pumped up for high school," said Browne.
One of the best parts of the Spirit Bus is the positive impression it makes on the younger students, it is great opportunity for Grandview students to give back to the community
"The reaction from the kids was great, the kids were very excited and energetic when we went,"  said Browne. "My favorite part was running through the elementary schools and seeing all the kids light up."
Truly the Grandview Spirit Bus is a great part of homecoming and most importantly, helped give future Wolves a taste of Grandview spirit.
"It was awesome to see all of the younger students getting excited about becoming Wolves," said Casey Browne.