Story by: Rayne Ware
Ticket sales for this year's homecoming were a big boomin' business with 1,600 teens attending.
"I think that advertising in leadership, has something to do with 200 more kids going to homecoming," Diane Koerner, activities office representative, said.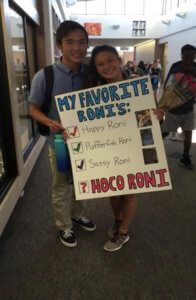 Perhaps there is also higher interest in going to homecoming because of the theme.
The carnival theme,"Step Right Up", featured a caricature artist, hypnotist and much more that appealed to students.
"This year was something new and different. I don't think we've had this type of theme since I've been here," said Koerner.
Freshman Elise went because her and her friends' were  curious about what the dance would look like with certain type of theme.
"I really just went because my friends were going and it was going to be fun," McIntyre said. I also went because the theme was really cool."
However, homecoming was a big hit and it definitely showed in the attendance.
Last year, Grandview had 1,400 teens attend  homecoming.